The Coach Connection
Originally published in Tucson Lifestyle magazine, May 2009 Issue
The News is Grim: In Arizona, the average family includes two children, and statistics tell us that one of them will not finish high school.
Joan Martin, executive director & director of coaching and a founder of Touch Point Connection Inc., has shown that volunteer coaches working with teens can help keep them in school. She worked with leaders in a Seattle public high school, and one assistant principle she trained used the techniques she learned with her students. Almost immediately behavior referrals in that school dropped by more than 60 percent.
"We tried a test project there for two years and found that coaching worked!" Martin says, "Attendance and grades went up, and behavior referrals went down. These three factors are key indicators of graduation success."
What is involved in coaching these teens? Within a trusting relationship, the coach serves as someone who helps the teen realize the relevance of their schoolwork, how to improve academic performance, set and reach goals, learn and practice new habits, and also acts as a non-judgmental sounding board for the student.
"When I moved to Tucson three years ago, I wanted to create a model program that could be replicated elsewhere, based on what we learned from our Seattle experience. I invited people to help, including fellow coaches. We incorporated Touch Point Connection and received our 501(C)3 designation. Amphitheater High School and the Amphitheater School District embraced Touch Point's program offer. Next we recruited community volunteers and trained them to be Success Coaches.
"In November 2008 we matched our first Success Coaches with students at Amphi High School. Today we have 25 coaches working with 25 Amphi teens. Next school year we will add more volunteer coaches and provide them to at least 75 Amphi students."
Martin notes that the kids at risk of dropping out include those from "good" homes. Many of them are bright and capable, but become disillusioned or bored. Others live in unstable environments that make regular attendance challenging.
Schools nationwide are feeling the repercussions of the economic downturn. Sandy Spiewak, head counselor at Amphi High School, says "Students are feeling the stress from their parents. They bring it with them to school and it interferes with their ability to stay focused and creates more conflict on campus. We're getting higher levels of referrals to the office for fighting and misbehaving in classrooms. Coaching provides kids with extra support and helps mitigate these factors."
Martin adds, "Missing a class, a school day, or a series of days can quickly become a slippery slope to dropping out altogether. The most successful people in business, sports, and entertainment have a coach and a support team; they don't do it alone. Once you point it out, teens seem to understand and accept that."
Although Martin and others at Touch Point Connection think they have a model to take nationwide, their priority is the pilot program at Amphi and gathering rigorous data to substantiate the results. Martin's plan is to grow and expand throughout Tucson first, adding more schools and districts. For that, volunteers are needed.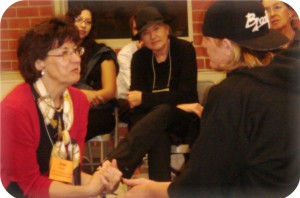 Those who are interested in volunteering attend a day-long Orientation & Training, then are invited to sign up.
"Once they agree to become a Success Coach we assign a Coach Manager, a certified professional who is always available for support and guidance," says Martin. "Each month, volunteers also attend a two-hour mini-workshop to practice coaching and sharpen skills. We are recruiting volunteers now so new coaches will be trained, fingerprinted (clearance can take 6-8 weeks), and ready to go when school starts in late summer."
Volunteers are assigned one teen and meet with him or her up to one hour a week on school grounds during regular hours.
The next Orientation & Training takes place on May 4. To learn more, call 616-2960, email to admin@touchpointconnection.com, or visit www.TouchPointConnection.org and get on the email list to receive notifications of dates and locations of monthly FYI gatherings (may 11, June 3 and more to be announced).