What is Touch Point Connection?
Touch Point Connection's mission has been to introduce the power of personal coaching to schools, youth-serving organizations, and parents. It is designed to support success of youth in developing the skills and competencies required for productive lives and careers.
Our initial direction was to bring coaching conversations to under-served and "at-risk" students at an inner city high school. However, we now hold that whatever the youth population may be, coaching conversations can help all adolescents dream big and build their futures.
The Power of Coaching Adolescents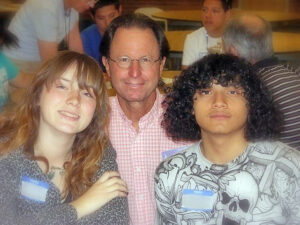 Youth Coaching:
INSPIRES them to move towards their futures with confidence.
HONORS and accepts the person each adolescent is now and the person he or she is becoming.
CREATES agreements and commitments between the adolescent and the coach based on mutual trust and respect.
PROVIDES a safe, non-judgmental presence for youth to communicate, explore, identify, and focus on their strengths and values while generating choices for their future.
PROMOTES opportunities for greater self-awareness and self-empowerment, as well as networks of support to navigate the challenging years of adolescence.
IMPROVES performance and decreases adverse influences so they can achieve their best.
SUPPORTS goal setting, and co-designing actions to reach their dreams.
DEVELOPS 21st century life and career skills such as analysis and decision-making, communication and collaboration, flexibility and adaptability, and accountability and productivity.
Touch Point Connection's Name Describes the Coaching Approach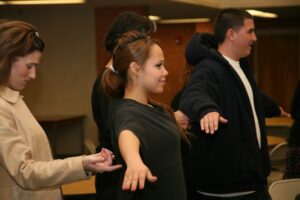 Touch Point: A light touch of support that can provide balance to keep someone moving toward success and self-empowerment. The "touch point" is there with the request and permission of the adolescent.
Connection: a safe, trusting and non-judgmental "connection" where an adolescent can explore, practice and develop skills, self-awareness, competencies, and choices for their future.
International Coach Federation
We followed the definition of coaching, ethics principles, competencies, and standards established by the International Coach Federation (ICF) practices. Those guidelines can be found on the ICF website at coachfederation.org
Coaching Teens… Building Futures